Need help?
Get an answer or just get it off your mind. Check out our
FAQ
, or
contact us
.
More News from Digital Media Strategies 2016
"It's better to compete with yourself and disrupt yourself, rather than have a competitor do it." –  Schibsted CEO Rolv-Erik Ryssdal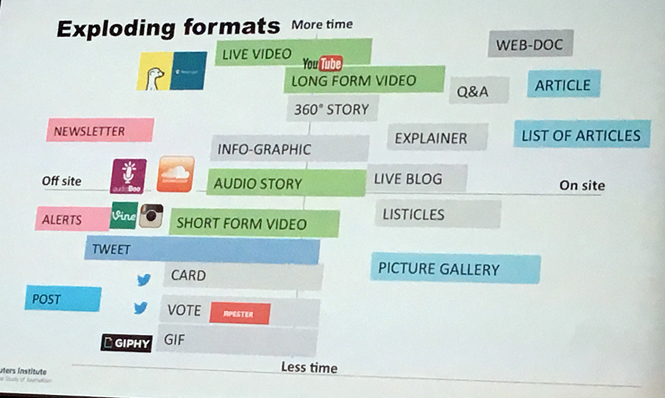 The photo above shows the emergence of push notifications on a phone's lock screen as a distribution channel from the Reuters Institute for the Study of Journalism presentation

Today is the final day of the Digital Media Strategies 2016 summit in London and Piano CRO Peter Richards had fruitful discussions with folks from Haymarket Media Group and Johnston Press plus he watched some informative presentations from Schibsted's CEO Rolv-Erik Ryssdal, The Reuters Institute's Nic Newman and Johnston Press' Jeff Moriarty and others.
Most of the presentations focused on how consumers are changing their consumption habits, where they are reading and how they are engaging with content. Peter said, most notably that:
– Push notifications that appear on a mobile lock screen are becoming the "new homepage"
– Messaging apps like Snapchat Discovery are evolving into news platforms that deliver news as text messages
– Distributed video is experiencing exponential growth and there is a rise in people watching video without sound
– Agility, everything is about speed, the ability to rapidly prototype, test and iterate
– There is increased focus on the importance of getting users to register and login, to turn anonymous users to known users
Peter attend the presentation by David Pemsel, The Guardian's CEO, who said said, "it's no longer possible to monetize anonymous reach," referring to declining CPM prices. Thus, the focus of their new membership program will be around getting anonymous users to register so they can create offers tailored to their needs can provide more value to advertisers. (What Pemsel is talking about is Value Exchange, a Piano specialty where we help publishers move anonymous users down an engagement funnel with data being the currency. We believe that exchanging content for data allows publishers to understand their users better and then segment them, which leads to higher engagement, more value for advertisers and ultimately subscription).
The summit has been really interesting with key industry learnings and trends being shared. Piano has been proud to sponsor such an amazing event and we will share the lessons learned with all our colleagues at Piano to make sure that our products offer tools that enable media businesses the opportunity to take advantage of how the market is moving.