Need help?
Get an answer or just get it off your mind. Check out our
FAQ
, or
contact us
.
Setting up a metered paywall III: Time period
This is the third part of a three part series by Piano Lead Data Scientist Roman Gavuliak that was posted earlier on Piano Media's blog.
Setting up a metered paywall I: Estimation
Setting up a metered paywall II:Data Sources
To read all of Roman's articles please click here.

Another question we frequently are asked is, what time frame is best for my meter? For the sake of convenience consider both a weekly and a monthly limit. Data reveals that most web page visitors generally consume more content on a weekly basis than they do on a cumulative monthly basis. This means a stricter weekly limit might impact more (even less regular) readers. The weekly limit also runs a lower risk of losing visitors because free article counts are refreshed every 7 days. On the other hand, the monthly limit imposes more pressure on users because if they deplete their limit too quickly, the waiting time to reset their meter is much longer.
The following summarizes the pros and cons of both limits:
Weekly
+ More users might hit the paywall if the limit is set correctly
+ Lowers risk of losing users due to a shorter waiting time
+ More flexible, can be adjusted in shorter intervals
– Weekends account for over 28% of all days within the limit
Monthly
+ Irregular users are less affected
+ Higher pressure for purchase due to a longer waiting time for the meter limit to refresh
As shown, any advantage can also become a disadvantage based on how the limit is set. A metered paywall might seem as one of the easier options (besides hard locking all content) but it needs careful thought. When setting meter limits you should listen to the data rather than to your heart.
With a weekly meter limit, even users that only use up their free articles and leave the site after encountering a request for payment, generate on average many more page views because they read up to their weekly limit. The following chart shows three examples of the average number of paywall hits for users that never paid for two monthly and one weekly titles during a one month period.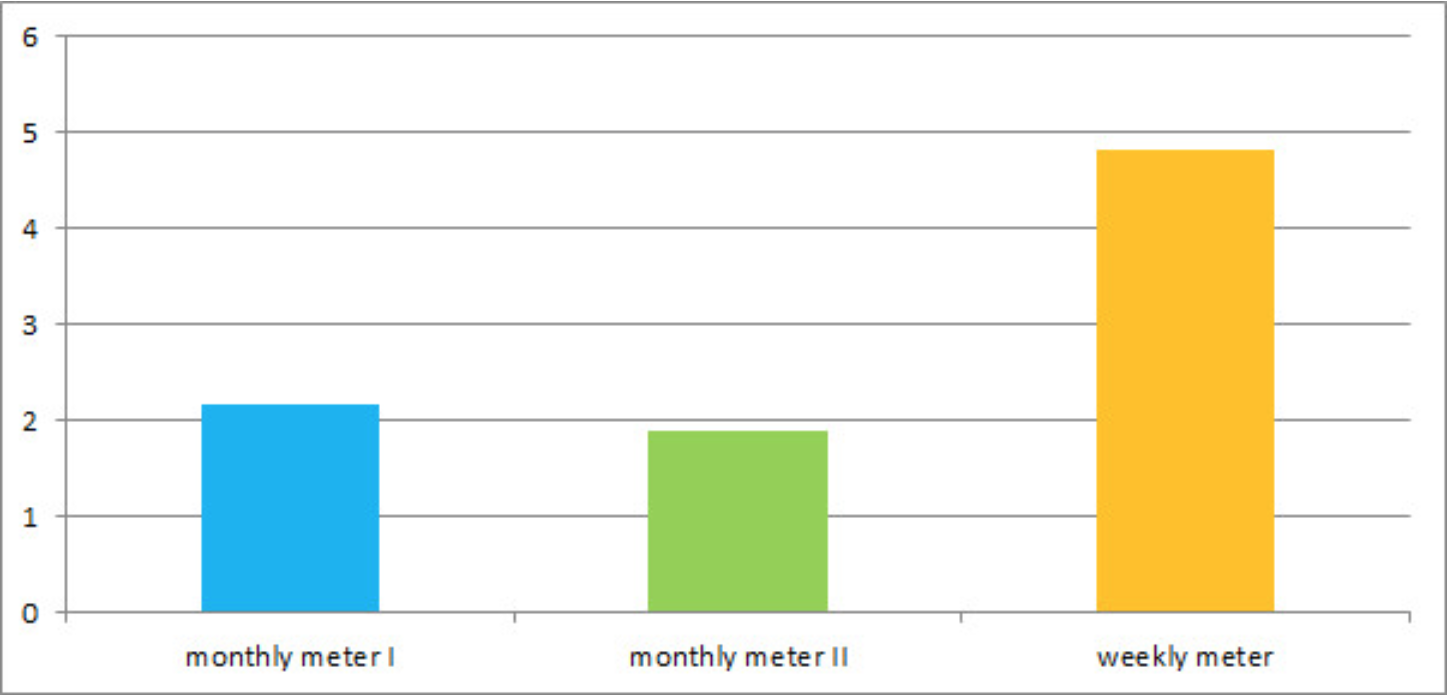 To make matters more complicated, there are several issues that haven't been touched yet (the list is non-exhaustive):

* How will the conversion rate change after the first month or week? Will it ever stabilize?
* How does the price of a subscription affect the conversion rate? What is a reasonable price for a
subscription? How do I bundle my online and print edition?* How will users adjust their behaviour to the paywall over time? Will I have to adjust the limit?
* What is the ideal limit
Do questions like these keep you up at night? Get in touch with us and we'll be happy to tell you more.